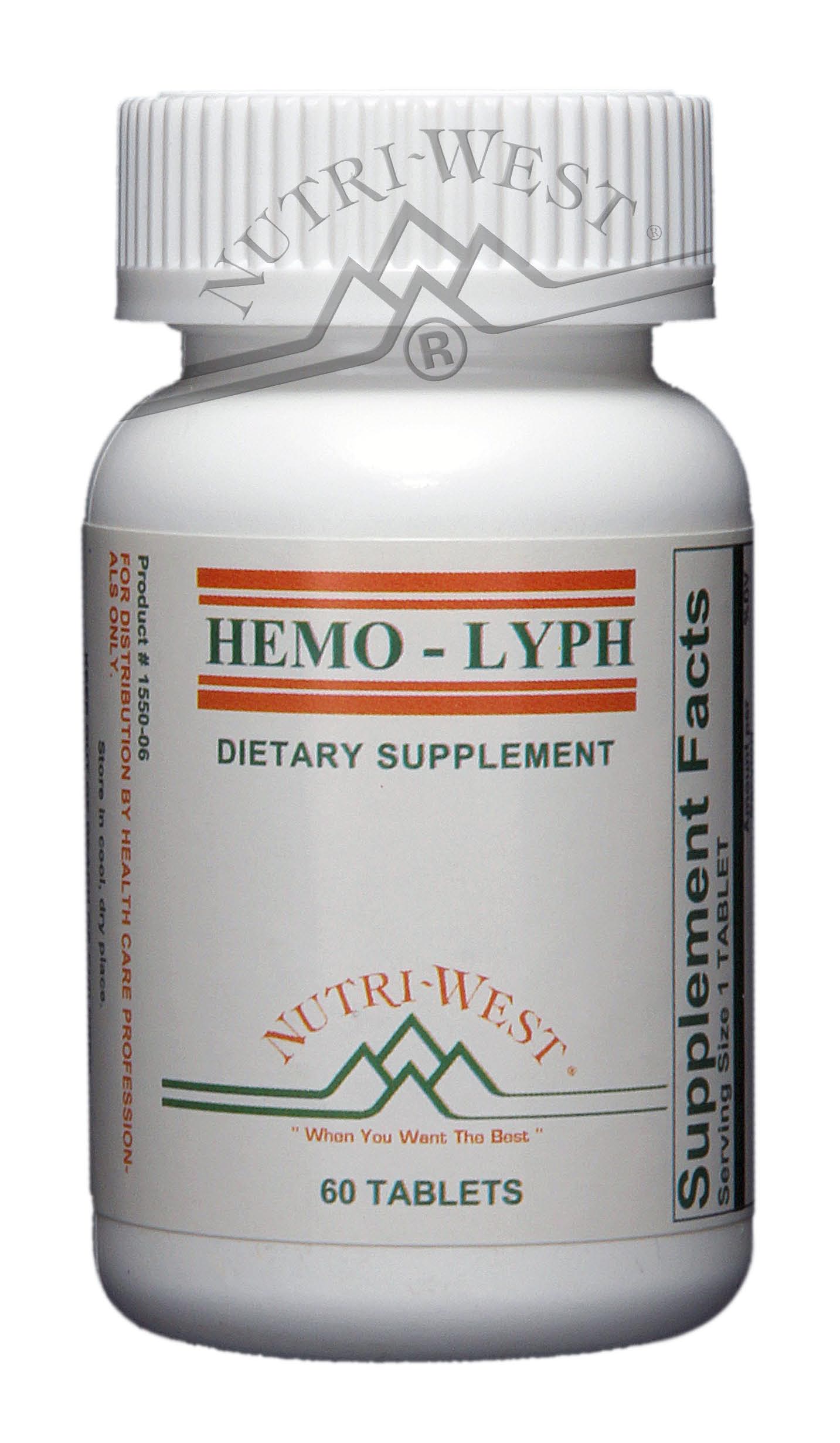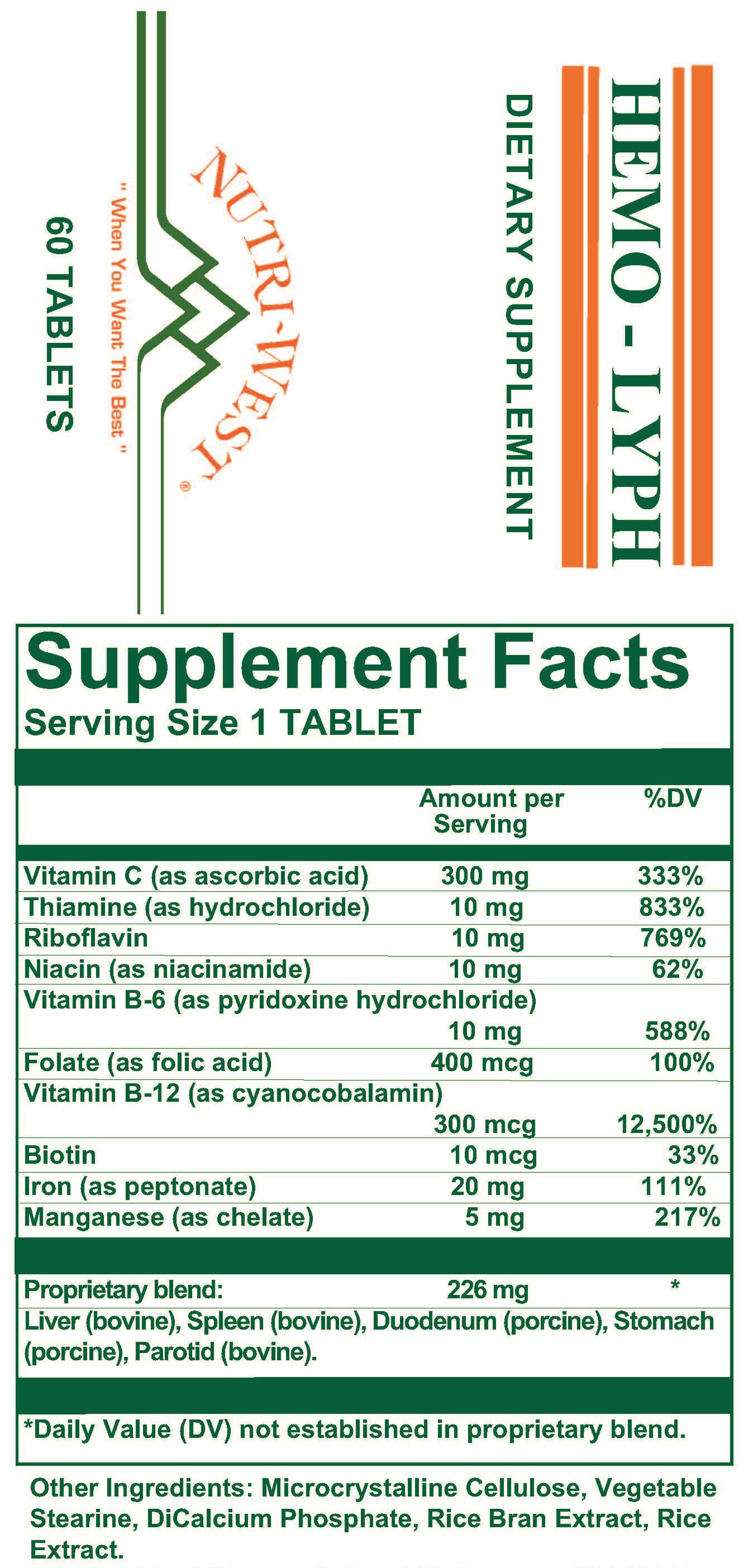 Hemo-Lyph
***
Product # :

1550 ***

Company :

Nutri-West

Size :

60 tablets per bottle
Index of Common Applications Group :
Iron Support
Supportive Function :
Iron with Synergistic Factors. Iron combines with protein and copper to make hemoglobin, the protein in the blood that is responsible for its oxygen carrying capacity. Iron is also necessary for the formation of myoglobin, which is the protein found in muscle tissue that is responsible for its red color, and its ability to store oxygen. Iron is a necessary co-factor in many reactions, including collagen synthesis. Supplementation may be useful to ensure an adequate supply of this important nutrient.
Ingredients :
Each Tablet Contains: Vitamin C (as ascorbic acid) 300 mg, Iron (as peptonate) 20 mg, Thiamine (as hydrochloride) 10 mg, Riboflavin 10 mg, Niacin (as niacinamide) 10 mg, Vitamin B-6 (as pyridoxine hydrochloride) 10 mg, Folate (as folic acid) 400 mcg, Vitamin B-12 (as cyanocobalamin) 300 mcg, Biotin 10 mcg, Manganese (as chelate) 5 mg. Proprietary blend 226 mg* of: Liver (bovine), Spleen (bovine), Duodenum (porcine), Stomach (porcine), Parotid (bovine).
Other Ingredients :
Microcrystalline Cellulose, Vegetable Stearine, DiCalcium Phosphate, Rice Bran Extract, Rice Extract
Contraindications :
High dosages of vitamin C (<1000mg) should not be taken in gout patients, or kidney stone formers. Iron or vitamin C in any amount should not be taken by anyone with iron overload disease. The upper limit for iron is 40mg for children and 45mg for adults. 200mg can be fatal to children. Warning: Accidental overdose of Iron containing products is a leading cause of fatal poisoning in children under 6. Keep this product out of the reach of children. In case of accidental overdose call a doctor or poison control center immediately.
Suggested Dosage :

1 tablet daily or as directed

Vegetarian or Vegan :

No

Gluten Free :

Yes

Allergens :

None

Professional Notes :

---

Patient Instructions :

---
*** No Frees With This Product
Presented by Nutri-West as an Educational Service
Copyright Nutri-West, Inc. All rights reserved.
Made with pride in Wyoming
where business is still done on a handshake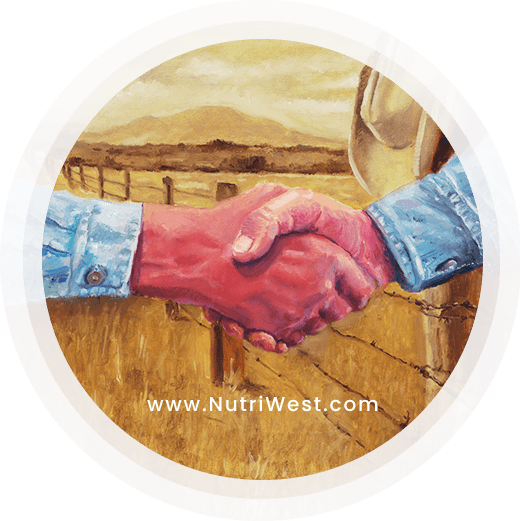 Our dedication to you, the health care provider, is absolute. You deserve our personal best in service and support